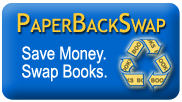 Ever since I was a little kid I've enjoyed reading. A LOT. I know my poor parents must have spent a fortune buying books for me. Sure, I went to the library and got books there, but the selection was limited, and often they would only have one or two books in a series. And as any avid reader can tell you, that just doesn't cut it.
As I've grown older, I've had less time to devote to reading, which is probably just as well since my parents are no longer funding the acquisitions. But when time allows, I still enjoy a good book. I've used all sorts of sources for getting books with varying costs - the library, friends, used and new bookstores, and both new and used books through Amazon.
I like the library, but they don't always have what you're looking for when you want it, and they expect you to bring the darn things back in a few weeks :) Since my life tends to go in cycles of having loads of time to read to abruptly having no time, this isn't always convenient for me. I like to be able to have a stack of books handy, and when I find myself with some reading time on my hands, I'm ready to go.
Used bookstores are a great option for getting reasonable prices on a wide selection of books, and also offer the advantage of allowing you to trade in your old books when you're done with them. This is cool because you get new (to you) books cheap, and you don't have giant stacks of books cluttering up your house. Unfortunately, good used bookstores are becoming a thing of the past.
So I was totally intrigued when I heard about
Paperback Swap
(PBS). This is a site that allows you to trade books with other users free of charge. Here's how it works:
You set up your account and post the books you have available to swap
When someone wants one of your books, you get an email
You get a few days to agree to mail the book to the requestor
Once you agree to mail the book, you can print out the wrapper/shipping label. The site will tell you how much postage the book should require.
You wrap the book (using the wrapper you printed out), put on some postage, and drop it in the mail
When the requestor gets the book, they tell PBS it arrived, and you get a "credit".
You can use your credits to request books from other members, and they will ship them to you.
Right now you get two credits right away when you post your first 10 books. I signed up last week and so far am loving it. I used my two signup credits right away, and the books I requested showed up in about a week.

They have ALL kinds of books... novels, literature, comics and graphic novels, even children's books. I'm sure there's something for everyone.

As far as shipping costs go, the PBS site will determine the cheapest option for shipping based on the book's weight. Most paperback's will cost you $2.38 using Media Mail (books less than 6 ounces will be cheaper, more than 16 ounces will cost more). You can add delivery confirmation to your package if you want, but I haven't been using it as of yet. I figure the cost of earning a credit, and therefore each book I'm going to get is $2.38 plus pennies for a couple sheets of paper and some packing tape.

It's not quite as frugal as going to the library, but it is definitely cheaper than buying books at the store! I also like the fact that someone else is getting some use out of my books after I've read them, and I don't have them piling up around the house and adding to my clutter.

If you decide to try out PBS, I would appreciate it if you could list me as the person who referred you (my PBS nickname is DalekQueen). I can earn extra credits by referring members.
If you have any tips for inexpensive books, please leave a comment. Thanks, and happy reading!
This post is part of Works for Me Wednesday